Pressurized Exhaust Rodent Controller (PERC)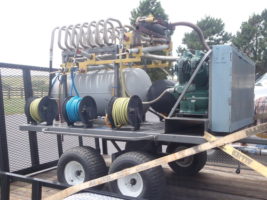 In response to population explosions in recent years, Double El & Agate Conservation Districts jointly purchased a PERC machine, for leasing to landowners dealing with infestation levels of prairie dogs.
The PERC treatment applies pressurized carbon monoxide to the burrows and is a humane method of control.  Treatment will not leave toxic carcasses or residue, does not require poisons, and is not a threat to other animals.  Vegetation, turf, plants and trees are not disturbed.
PERC Leasing Information
Rates
Standard rates for leasing are:
$50 per PERC machine hour, (minimum charge of $300)
Season Special!!  $25 per PERC machine hour, (minimum charge of $100)
Requirements to Lease
Landowners wishing to lease the PERC machine are required to:
Provide Proof of Liability Insurance for vehicle used to pull trailer containing PERC/ATV equipment
Sign a Liability Waiver
Submit a $500 damage deposit
Contact Us to schedule your lease of PERC machine for use in restoration of infested grasslands.
Resources
Earth Moving Equipment
Agate Conservation District has earth moving equipment to aide in the construction or restoration of dams, terraces, diversions or to plug cow trails, on a limited basis for landowners within the Agate Conservation District.
Please contact Casey Craven at 970-597-7837 for more information regarding leasing options.